Computer Software
---
Gransha Taxis Belfast uses Autocab's GPC Computer System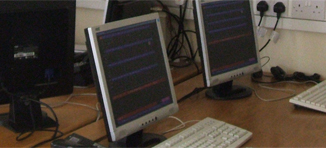 This computer system ensures that you get your taxi as quickly as possible by automatically assigning the nearest driver to you. The system also records your number and gives you a ringback when your taxi is there.
The Autocab computerised system affords you a great punctual service and Gransha makes sure you're still paying the lowest fares.
This is what the Gransha employees have to say about Autocab:
Having worked in the taxi industry for almost 20 years now there have been many changes recently to assist both drivers and desk personnel.

By far the best, in my opinion, is the Autocab system. It does away with all the bits of paper and the old 'time board' which was always the preferred system for many years. Bookings constantly got blown away, lost or accidentally thrown out. Now when a booking is taken, whether it is for 10 mins, 10 hours, or 10 days away, the computer stores this information and it appears on screen in time to be dispatched for our customers.

As a driver too, this is a wonderful system. No longer do you need to remember every address or scribble it down on a piece of paper in the car. A mini computer screen is installed in the car and when a job comes through for you, the computer beeps and puts the address on the screen for you.

Another benefit we have with the Autocab system is the 'ring-back' facility. The computer is linked to our phone system in the office and when you as a customer phone for a taxi, the computer remembers your telephone number and enables the staff most of the time to allow the driver to ring your phone from his car just as he is pulling up to your address, so as you know the car is there and, especially early in the morning and late at night, this means your neighbours are not disturbed by beeping horns. The only exceptions to this would be people phoning from phone boxes, switchboards, or withholding their telephone number when they dial us.
---
Gransha Taxi Belfast provide a 24-hour Belfast taxi service, so no matter when you need a taxi, any time, day or night, use our 24-hour service - phone Gransha Taxi Belfast on: